HOW TO USE
HOW TO ATTACH CHAIN
1. Prepare 3 pcs of part.

2. Set the chain on the bar.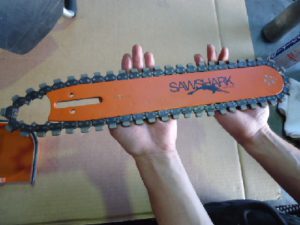 3. Take off the chain cover.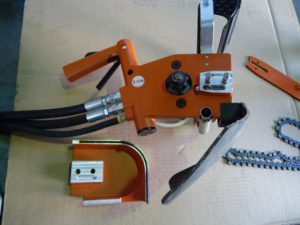 4. Set the bar with chain to sprocket.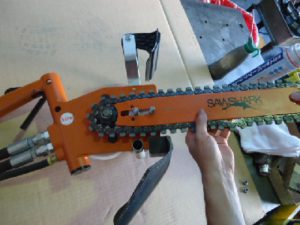 5. Temporarily tighten by attaching the chain cover.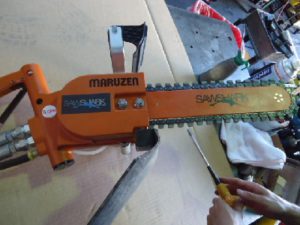 6. Adjust the tension of the chain with the screw for adjusting chain, and finally tighten the cover.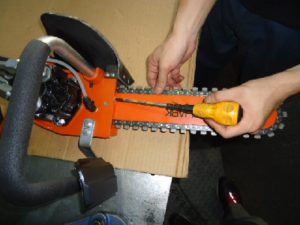 Cutting Procedure
< WARNING >
The chain guard must be in place before startup and during saw operation.
Failure to do this can cause serious personal injury.
1. Grasp the auxiliary handle with your left hand.
Use the appropriate part of the handle for making the first cut.
2. Grasp the control lever with your right hand.
3. Position the Concrete Cutter in the appropriate place to make the desired cut.
4. Unlock lock lever. Then depress (squeeze) the control lever to start the saw.
5. When putting the chain into an existing cut, the cut must be the same width as the chain.
Putting the chain into an existing cut narrower than the chain will rapidly wear the side clearance of the chain and could cause chain breakage.
6. When starting a cut, do not bang the chain into the cutting medium.
Jarring impacts can decrease the life and performance of the chain.
7. Plan the cutting strategy before starting.
Once the saw starts cutting, you cannot change direction of a cut easily.
Do not twist the bar in the cut.
8. Do not apply excessive feed force.
A constant chain speed is important for optimum cutting.
9. When plunge cutting, increase the opening of the cut by rocking the saw up and down.
Aggressive plunge forces may cause the saw to jam when exiting the cut.
10. Check chain tension frequently during cutting.
STOP
1.Stop the saw by releasing the control lever.
2Stop the hydraulic power source following the procedure in the respective instruction manual.
3. Clean the slurry off the saw.
4. Shut off water supply.
5. Disconnect the hydraulic hose from the saw.
< WARNING >
Never disconnect any hydraulically operated part of the saw or remove hydraulic components, lines, or fittings while the power source is running or whenever the hydraulic fluid is hot.
Allow the water to drain out of the saw by pointing the nose down and triggering the valve on.
If available, blow the water out of the saw with compressed air.
Spray entire saw with a light coating of oil to make cleanup easier next time.
Make sure the chain, bar, and bar nose sprocket have a coating of oil to prevent rusting.