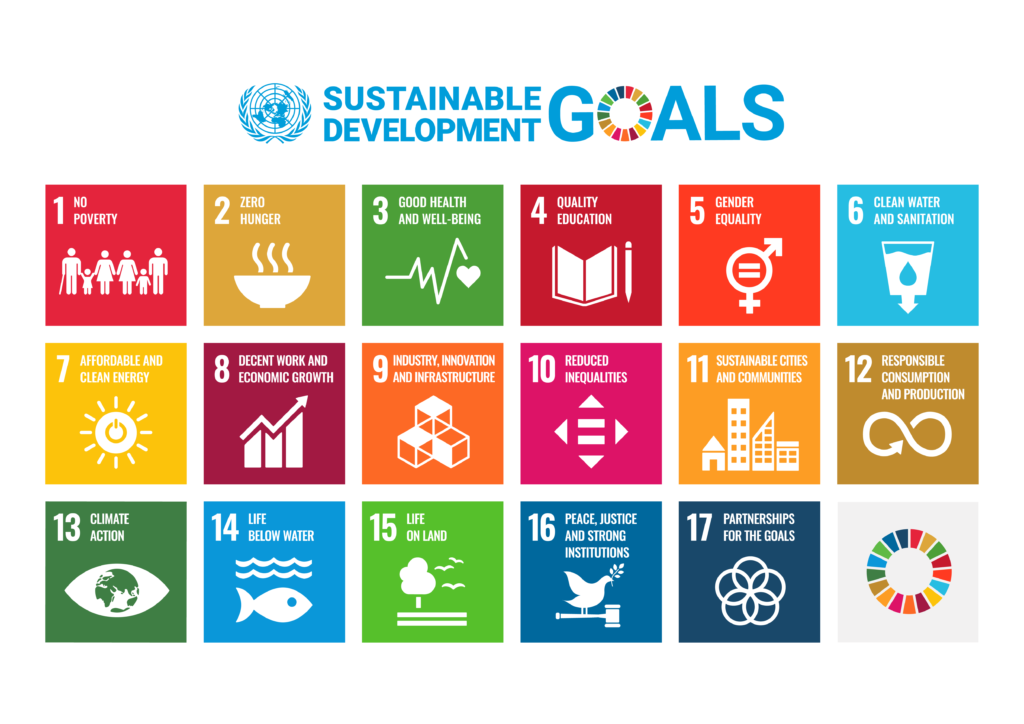 Sustainable development goal What is "SDGs"?
The Sustainable Development Goals are the successors to the Millennium Development Goals (MDGs) formulated in 2001, and were unanimously adopted by the member states at the United Nations Summit in September 2015, "2030 for Sustainable Development."
It is an international goal for a sustainable and better world by 2030, as stated in the Agenda.
Composed of 17 goals and 169 targets, we pledge to "leave no one behind" on the planet. The SDGs are universal, not only in developing countries, but also in developed countries themselves, and Japan is also actively working on them.
Maruzen Kogyo's efforts to achieve the SDGs
We, Maruzen Kogyo agrees with SDGs advocated by the United Nations and advocate an "effort to achieve the SDGs" to contribute to the realization of a sustainable society.
Since its founding in1954, we keep pursuing business activities based on the ideas of the founder"Creation".
With healthy business growth, the entire company will work as one to realize a sustainable society and improve corporate value.
Equal working environment・Promotion of diversity
We strive to create a work environment where all employees can grow and play an active role so that they can continue to work while giving birth, raising children, and providing long-term care, eliminating inequality.
・Active support for childcare and long-term care.
・ Creating a workplace where women can work comfortably.
・ Fair evaluation for promotion by Personnel appraisal.
Creating a rewarding workplace everyone can play an active role
Listen to the market/environment, we will strive to manufacture by finding an exciting idea and promoting innovation. 
・ Active sharing challenge system.
・ Evaluation of the idea/innovation.
・ Promoting robotization, energy-saving, and IT.
Promotion of health management
Health is the basis of everything in life.
We focus on work-life balance so that we can work in a state where we maintain good health.
・ Managing health care and improvement guidance for all employees.
・ Efforts for stress and mental health.
・ Maintaining a good health corporation.
Coexistance with local comunity
Through community contribution activity with local residents, we focus on a sustainable community society.
・ Receiving internship from a local educational institution.
・ Active recruiting local people.
・ Cleaning activity around the company and public facility.
Enhancement of education and training
We carry out consistent education and training in which all employees bring appropriate and useful results.
・ All employee take consistent and similar training
・ Support for acquiring skill qualifications and implementation of reward syste,
・ Constructing skill trainning for office worker .
Contribution to social infrastructure
We make use of our products to improve the safe and secure social infrastructure for the whole world.
・ Supplying safe and useful products for everyone in the world.
・ Manufacturing for town planning in the future.
・ Manufacturing with environmental friendly material.
Occupational safety and health
For the purpose to secure the employee's safety and execute smooth work, we work on the development of safety and health regulations
・ Introducing of relaxing breaking room/dining room.
・ Deduction of long working hours and hard labor.
・ Observance of laws and company rules and clarification of the rules.
Enviroment measures
To maintain the global environment, we practice environmental friendly business activity.

・ Installation of the highly productive and energy-saving mechanical facility.
・ Deduction of CO2 by installing the LED light.
・ Products development with engine removal.