HOW TO USE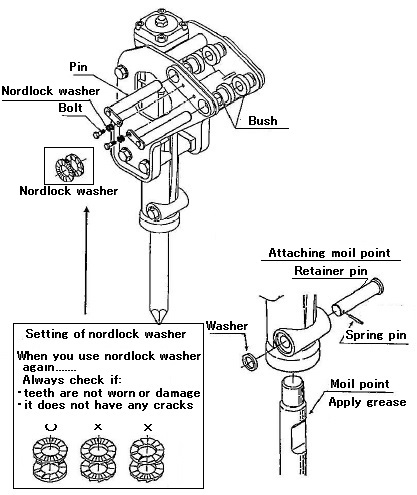 1. Prepare 4 pcs of bush and 2 pcs of pin to attach the breaker to excavator.
Grease in and outside of bush when attaching it to the bracket.
Keep the breaker horizontal and attach arm of excavator and bucket link together with 2 pcs of pin.
Insert 2 pcs of pin and fix the bracket with M10x20 hex bolts and spring washers.
Connect hydraulic hoses to the PTO port on excavator.
Be sure to turn off engine this time.
Connect the hoses correctly.
Upper side hose of the breaker is IN, and lower side hose is OUT.
2. Grease moil point and insert to the breaker.
3. After operation, turn off the engine when you take out moil point.
Be sure to wear glove since moil point would get very hot after operation.
4. To remove the breaker, place the breaker horizontally on the ground,
depressurize the breaker circuit, and then stop the engine.
While the breaker is being used, temperature of each section rises as oil temperature rises.
Use gloves to avoid unnecessary damage due to high temperature.